Pricing and Information
No hidden costs. Prices inclusive of design and GST. The only other cost is postage from Victoria to you.

Polo Shirts
Long and Short Sleeve
10-19 is $55 each
20-49 is $50 each
50-99 is $48 each
100-199 is $45 each
200-300 is $39 each
Hoodie Pullover
With Pockets
10-30 is $70 each
31-49 is $68 each
50-99 is $65 each
100+ is $60 each
10-30 is $35 each
31-49 is $32 each
50-99 is $30 each
100+ is $28 each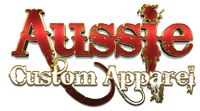 Aussie Custom Apparel is a Sister Company of Rig Master Tackle
Sublimation is the most impressive and detailed way to customize your shirts, allowing for endless design possibilities.
Designs can incorporate any colour, gradient, font or effect that you can think of. Designs can go across seams, under arms, along waistbands because EVERY part of the shirt can be printed on.
Sublimation is the latest printing process of extreme heat transfer impregnating ink into the fibers of the garment. Once a design has been sublimated it will, in effect, become part of the material. This means that the design will stretch with the fabric and the image surface will not crack or fade over time. We only use the highest quality fabrics made from 100% Quick Dry Polyester that has perforations through the material allowing it to breathe. Nothing like the Polyester of old, these new fabrics are light, strong and very durable offering SPF 50+ protection against the damaging sun. Your shirts will be soft to the touch and will not pill or fade so your design will stay vibrant wash after wash.
We have a minimum order quantity of 10 shirts at the same flat price. This can include any size from Kids size 2 to Adults size 9XL, and long or short sleeve. We also offer Singlets and Fleece Hoodies. Individual Personalisation can be added on request for an additional charge. Design work is FREE within reason so it is important that you give us a really good idea of the design you have in mind the first time so there are no excess design charges. The only other charge is postage from us in Victoria.
Images, logos and background of short must be high resolution (large file size that is clear).
Any colours (unlimited) & and ANY design can be printed on to your shirts.
Can be any design you like in any colours you want. You can also add your own logo or that of a Sponsor. You must have permission to use ANY images/logos supplied to us. Please be mindful of copyright and obtain permission to print other peoples images/logos.
We are also happy for anyone with a basic understanding of Photoshop or Illustrator to attempt a design of their own if desired.
We can turn shirts around in 4-6 weeks after we place the order. Once we have a design that you are happy with we will need payment up front before the shirts will be ordered.
If you would like us to put a design together based on your instructions you can fill in the online form here: (click to enter) QUOTE REQUEST and fill in as much information as you can about the design you have in mind. If you need some ideas for your design you can check out completed designs here: (click to enter) AUSSIE CUSTOM APPAREL WEBSITE or FACEBOOK